Our Voices Revolutionize the World
From Erik Hersman's talk at the IoM meeting on technologies for violence prevention:
"There's a term that I came across last year called "White Space", and it's best definition is:
"…where rules are vague, authority is fuzzy, budgets are nonexistent, and strategy is unclear…"
The most innovative ideas come from this white space; internally within organizations, in the startup space and in society in general. At the end of the day, much of the white space definition looks a lot like where I live and work in Africa. And I think it's why its sometimes easier to come up with innovative solutions there, and why we're going to see an increasing number of solutions to the problems in the West coming from places that look a lot like Africa.
The best disruptive ideas come from the edge. So, let's look at the edge, cases from around the globe, for some examples of how technology is being used to make an impact on violence prevention.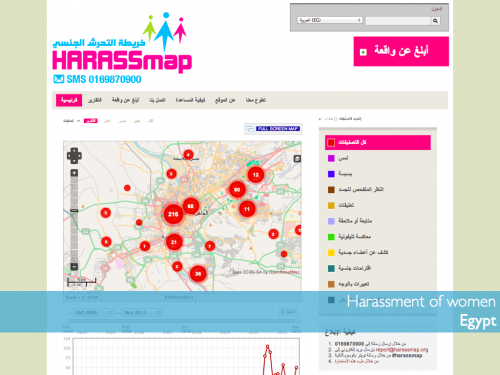 HarassMap (Ushahidi + FrontlineSMS) – Egypt
BullyMapper (FrontlineSMS + Ushahidi) – Australia
Human Rights (Ushahidi) – Saudi Arabia by Amnesty Int'l
YoungAfrica Live (Internet via mobile) – South Africa
YETAM (FrontlineSMS + Ushahidi) – Benin by Plan
Apartheid Watch (Ushahidi) – Israel and Palestine
Hollaback (Phone cameras and a website) – US, India, Mexico and Argentina
PeaceTXT (SMS and trained people) – US
Maps4Aid (Ushahidi) – India
Take Back the Tech (Ushahidi) – Global
"Across the globe—and without any organizing or mobilization by NGOs or watchdogs—people confronted with threats to their rights are communicating out those experiences, in effect reasserting agency over their own rights protection." – Amnesty International
Those are all exciting examples, showing what can be done with new technology. Suddenly there are no barriers to entry, anyone can take part, and it doesn't require that someone have authority to begin. It's just a matter of figuring out what you want to do and galvanizing a community to take part.
Is technology a panacea? Not at all.
As my friend Clay Shirky says, "The technology only becomes interesting when it is no longer interesting to technologists."
We use a graphic in Ushahidi to remind users of our tools that the technology is only a small part of any solution. We say that 90% of the work is non-tech related, and can take the form of organizing, outreach, branding, translation, etc.
It's a reminder to us as well, that we need to focus on creating tools that augment human activity and get out of the way as much as possible. That, in the end, is what makes the earlier examples so interesting; they worked because they used the simple tools available in people's pockets to interact and bring attention to a much larger population, audience or intermediary."